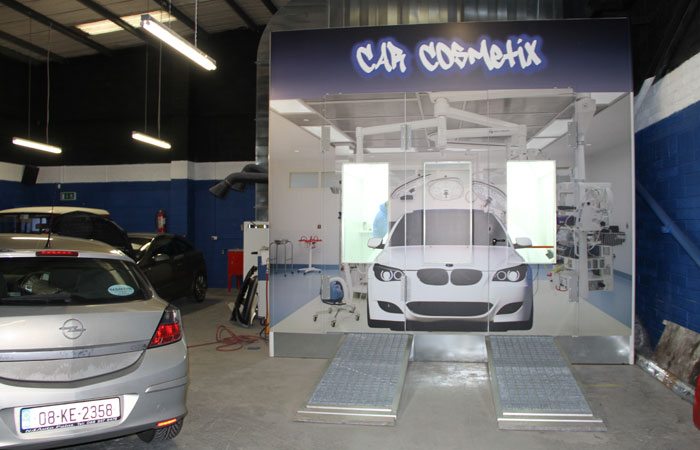 At Car Cosmetix we have invested our time and money to provide our customers with the best quality yet cost effective service. We believe that our workshop should reflect the progressive nature of our trade and skill set.
Purpose Built

Crash Repair Garage
Complete with revolutionary breakthrough technology specific to the auto body repair industry. Crash repairs that would normally take two to three days can now be completed on the same day – Saving You Time & Money.
Free Online

Crash Repair Quote with Affordable Prices
We realise the importance of accurate and affordable pricing. So we work diligently to give you a free and precise quotation within two hours of completing our FREE QUOTE FORM.
Car Dents & Scratches Repaired on the

Same Day
From structural damage to the smallest of car dents & scratches. Meticulous quality controls and precision techniques are employed to restore your car to pre-accident condition – you will never know your car was ever in a collision.
NCT Car Failures
Cracked lights, sharp edges and panels out of line are just some of the reasons your car can fail an NCT Test. Yet all of these can be repaired within a few hours here in our workshop. Don't let minor issues cause you to fail just submit your details on our FREE QUOTE FORM.
First Class Car Paint Repair & Colour Matching in our Paint Room
Perfect colour matching is achieved through the use of the manufacturers paint code found on your vehicle together with the highly rated Lesonal computerised paint mixing system – all products and paints are certified compliant with the Environmental Protection Agency.
The Ultimate Car Bodyshop Spray Booth Oven
For an expert Panel Beater to take pride in his work he has to see it emerge from the Spray Booth. Our new computerised Blowtherm Low Bake Spray Booth Oven is the leader in its field –no debate. The advanced technology employed guarantees your car will look and feel like new again – this will make all the difference in the world when you go to sell your car.
Approved & Certified Collision Repair Centre
Rest assured your vehicle will be repaired in our fully approved and purpose built bodyshop here in Sandyford. Having a certified vehicle body repair technician repair your car is expected and is a given. But with the ever changing paints, materials and technology being used in newer cars, ongoing education is a must for all our employees — Only a certified and up to date expert will work on your vehicle.